I have also decided to make the move back to Blogger. I like that there is a little more there to personalize my blog more. I plan on adding some widgets in the next day or so.
Go Dog, Go!
He now likes to read
The Giving Tree.
Here's a 5 minute clip of him reading part of the book. He's able to read the whole thing, but he likes me to read the "long parts" for him.
Isaiah has been reading since the age of 3. He started out with
Britax Marathon
. $42.99 plus free shipping! This seat usually costs $280, and is considered top of the line in safety and features. And it goes from rear facing at 5 lbs to forward facing at 65 lbs.
I know some friends might be in the market for new carseats, and there's a great deal on the
So, on a light note, I was in Marching Band in college. Funny thing is that I never really learned how to play an instrument until I got to college. I taught myself how to play piano and guitar in high school, but I started out as a vocal major and learned to play different instruments after deciding that I might want to teach band as well as choir. So, after a semester of learning to play various brass instruments, I was invited to join the U of I Marching Band. It was a fun experience. There's quite a unique atmosphere when you are a band geek.
That's me on the end. That little speck. I know you can
almost see me there...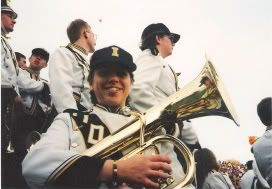 I played Baritone. It was better than trombone. If I had to fake it through some places, no one in the audience could tell. If I played the trombone, my mistakes would be a little more noticeable to the crowd.
Still a friend- then and 11 years later, Erin
So, why all this nostalgia? Because I got to join the Alumni Marching Band for Homecoming this year! I was only able to join them on Saturday, so I missed the bonfire and traditional Serpentine on Friday night, but we had a nice breakfast on Saturday. Everybody and their dog were there
We did a quick run through of the
fight song
and Alma Mater(Here We Have Idaho).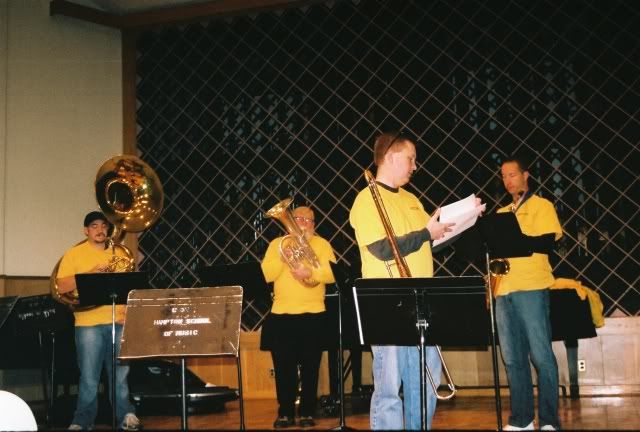 I had practiced a bit on my own the week before, but I sure could have used a little more with the band! We then quickly formed a semi-parade of our own as we half-walked/half-marched through the streets of Moscow to get to our starting point.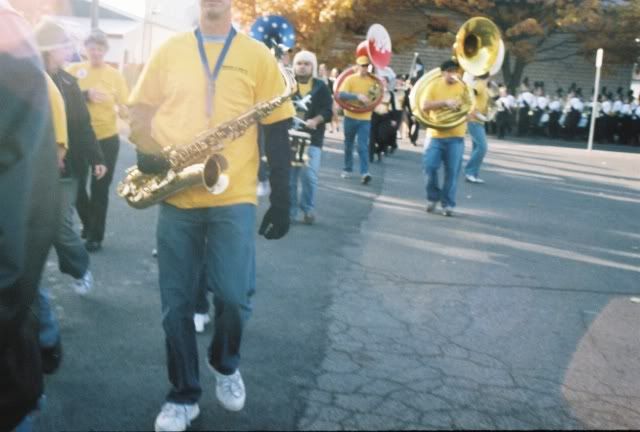 We played the fight song alternating with Louie, Louie(I can play that song really well!) until we reached our starting point. The parade must have been extremely long because we stood and waited around for a long time. We were one of the final groups.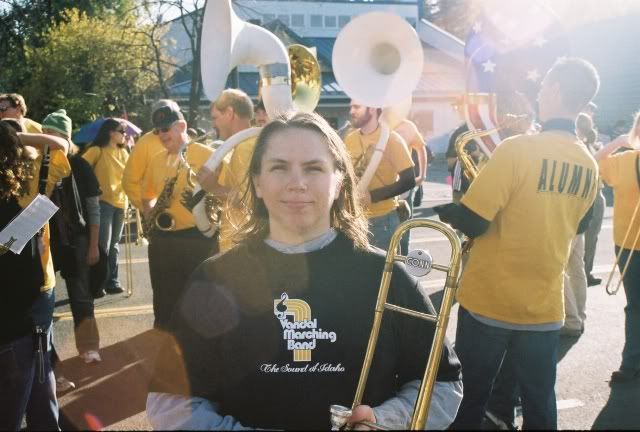 Uh, yeah, my shirt doesn't match everyone else's. Apparently, they ran out of Alumni shirts in my size. But I got this cool shirt, and it was cheaper than the Alumni ones! Also, my instrument changed since I was in Marching Band before. I've been playing trombone for about 9 years now since I found a cheap one for $20. Of course, my mistakes were a little more obvious, but I was able to keep up pretty well for the most part.
This dog was also waiting his turn with the firefighters at the parade.
After sitting around for a while, we decided we had enough time to go march through the Rosaurer's grocery store- as was the custom for all of our Homecoming Parades.
Even the little old ladies trying to do their Saturday morning grocery shopping got a kick out of us, and clapped along to the fight song. And yes, there is a gorilla wearing a Viking helmet and a chicken. They were actually a part of our group. I think next year, they plan on carrying instruments.
So anyway, we made it back to the parade, still with time to spare. Our turn finally came up, and we marched our way through Main street. I realized by then how out of shape I was. It was tough marching, standing around waiting, marching some more(including all the old funky dance moves), and playing. When we got to the end, we walked back up to the music building, and then walked again all the way across campus to the Kibbie Dome. When I got there, I was uncertain of the entrance we were supposed to take, and I almost walked all the way around the Dome. I was thankful to finally make it inside where lunch waited for us- except we had to practice getting on and off the field for half-time first! And after that... more marching! We tagged along with the current Marching Band through the tailgaters.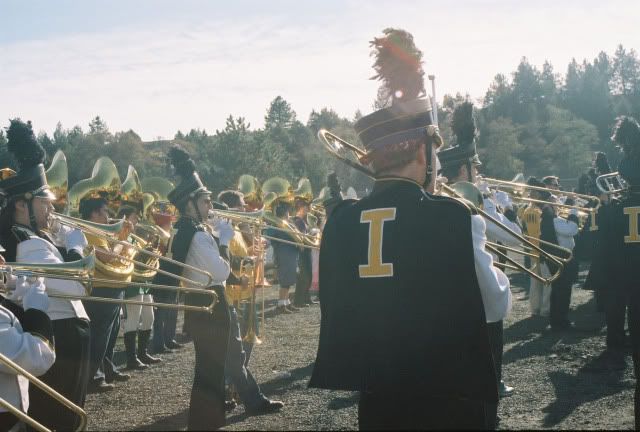 And we learned even more funky dance moves! Some brave souls went back and played for beer and jello shots, but I was bushed(not to mention that I'm not a beer drinker!)
We waited in the tunnel with the current band members and Joe Vandal
The rest of the day was fun and exciting. The Alumni band decided to go sit in the Visitor's section and play and cheer. Our old director, Al Gemberling, even joined us! We did get in trouble for playing when we weren't supposed to. Who would have guessed that they didn't want us to play when they were advertising things? ;) Someone passed out Cokes. I should have guessed that they would have liquour in them, but I drank it anyway. I was thirsty! ;) The game was close and exciting to the end! No one expected us to win, but we won 20 to 14!
So that was my tiring, but exciting day a few weekends ago. It was very cool, and I really enjoyed waxing nostalgic over my college years. It almost makes me want to go back. I hope to be able to do it again next year!
So it's been a long time since I've blogged, and I thought I should do a little catching up. I have a few things I need to blog about: my daughter's 6th birthday, U of I Homecoming, and Halloween. The Presidential Election is a pretty big one, too, but I'm still kind of sorting out my feelings and thoughts on that one. It may take a while.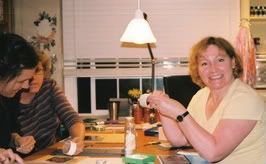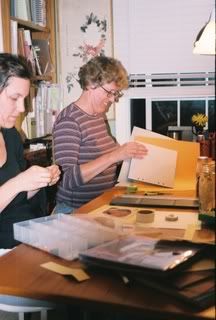 I did manage to get some scrapping done that night: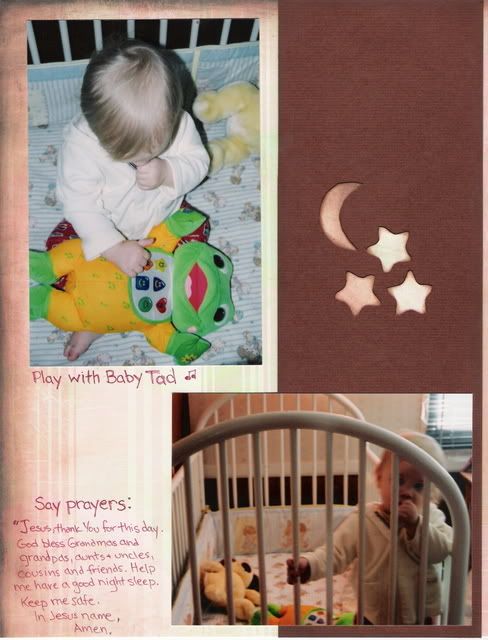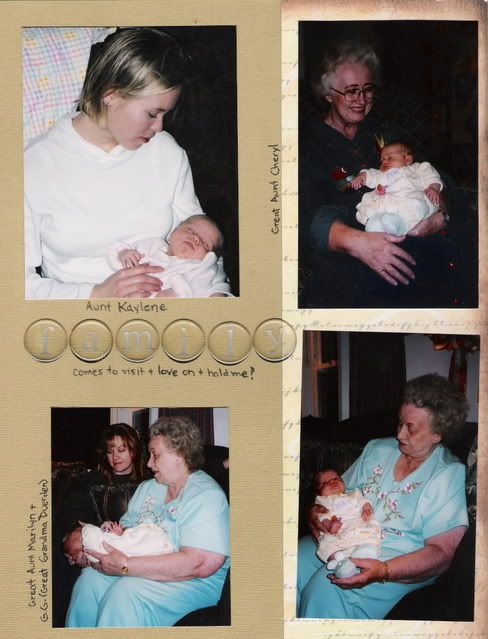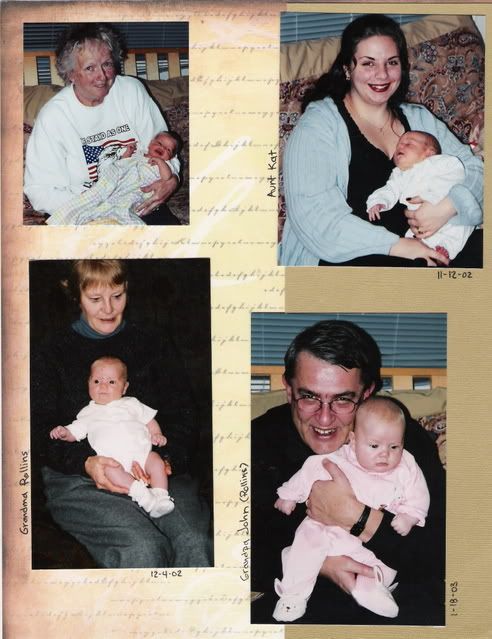 Since I traveled a long distance, my kind hostess was good enough to let me spend the night. I even slept in until 11 a.m.! Now there is an event that hasn't happened for a looooooooong time!
The house I stayed at was a block over from Spokane's Manito Park. I had heard much about it, so thought it might be nice to experience it for myself. I meandered through the Rose Garden and the Japanese Tea Garden. Both places were very beautiful, and all I could think about was that I wished my kids were with me for a photo op. But I did take some pictures of the scenery: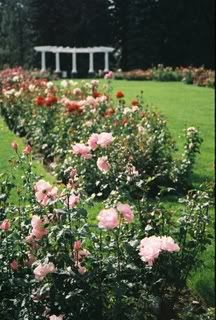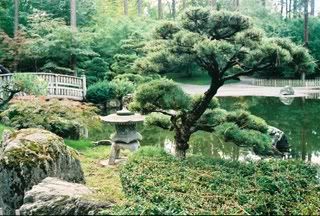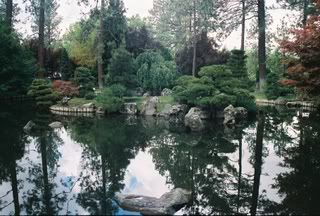 After the Japanese Tea Garden, my bladder was giving gentle reminders to head me in the direction of the facilities. I thought the signs on the door outside the bathrooms with the Japanese symbols were very quaint. When I walked in, I noticed something missing from the bathroom- doors on the stalls! Fortunately, no one was around, so I took the stall furthest from the door and did my business as fast as possible. In the meantime, I was grateful that the toilets themselves were Western style. ;)
All-in-all, I had a wonderful weekend, and I'm grateful to my dear spouse for letting me run away for a bit.
Last weekend, I got to make a trip to Spokane to meet some people from a scrapbooking message board I belong to. We had a wonderful time. The hostess was very gracious and we had a wonderful meal of lasagne, salad, and french bread. We yapped and scrapped until about midnight. We tended to do more yapping than scrapping, but that's how it always works for me at these things.
Home of Five
is a blog I follow, and she is having a giveaway of a free year's subscription of Family Fun Magazine to a random blogger who links to her blog and posts an entry about what they will do this weekend to live frugally as a family.
My weekends are usually the same week after week. We spend Saturday mornings together as a family- playing, watching cartoons, and doing housework. Then, Mark takes the older two kids to the park before picking up his friend. They entertain the kids by playing video games, and Mommy leaves for Moscow to do our essential supply shopping at Wal-Mart(can you get more frugal?). My entertainment is a night out with my friend- scrappin' and yappin' at her house.
On Sundays, we go to church. Afterwards, the kids share a yo-cream treat. We eat lunch at home. Mark goes to work, and then goes to Moscow to visit his friend. He does the food shopping at WinCo- the cheapest place to buy groceries in the area. Their non-food items tend to run more than Wal-Mart, which is why we shop at Wally World for the non-food supplies.
Technically, a lot of these things cost money. It costs money to pay for cable to watch cartoons. We justify this by getting the most basic cable possible, and we don't go to the movie theater or even rent movies very often. When we do rent movies, we wait for them to leave the new releases and rent them for a dollar a night.
It does cost money to buy the video games, but since Mark writes game guides, he can justify it as a business expense. And when he's done with the game, he sells it back on E-bay.
Food and supplies cost money, of course, but since we pretty much can't get by without food and diapers and such, it's kind of a necessary evil. It costs money to travel the 10 miles to the discount stores we shop at, but since we combine it with trips we would make to visit friends, it all washes out in the end. I consider us to be fortunate to live in an area where we can drive across to shop in Idaho since the prices are so jacked up in Washington due to the high minimum wage(and it's increasing again this year).
Scrapbooking costs money, but I'm doing my best to not buy a bunch of new product. I really need to use up the supply that I already have. It's hard to resist all the cute stuff out there, though. I used to get things because they were cute and I JUST KNEW that I could take some pictures to go with the cute stuff later. ;) I don't usually go to crops that cost money, so I'm saving money in that area.
I'm sure that there are more things I can do to cut back and live more frugally if we need to, but for now, we are doing well with this strategy for living at our means.
So most people know that I live pretty frugally, and I like following blogs of other people who do the same to get tips and tricks.
I found this on another blog and thought it was cool, so wanted to share it with my readers: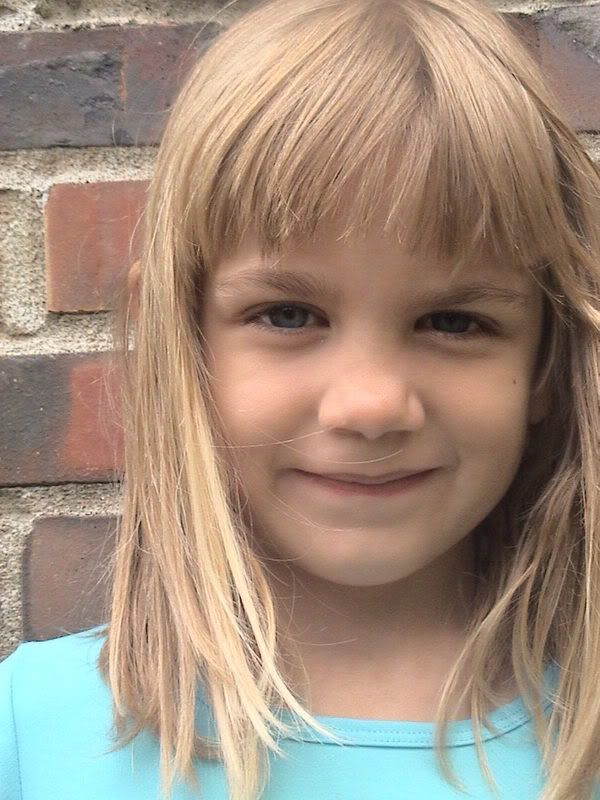 Kyrie won't be 5 much longer. Her birthday is on the 24th of this month. So I thought it would be good to review some of her characteristics at 5.
1. Started Kindergarten as a homeschooler. Reads at 2nd grade level. Does 1st grade Math.
2. Got her own room and enjoys sleeping in it- even if she wakes up at 6:30 in the morning!
3. Bites her nails
4. Favorite toys:Barbie car, My Littlest PetShop, My Little Ponies, stuffed dogs: Sparkly, Lucky, Princess Puppy Luv and Nanua.
5. Best friend- Erin Combs, but really loves to make friends with all she meets. When meeting someone on the playground for the first time, she will introduce them as her best friend- even if she doesn't know their name. She loves playing with the neighbor kids, and it's a horrible punishment to her if she loses the privilege of going out to play with them.
6. 49 lbs and 3 ft 9 1/2 in.
7. Got her tonsils out this year
8. Loves her little brothers and plays well with them- for the most part.
9. Favorite food- Spaghetti, ravioli, macaroni and cheese, and ham and cheese sandwiches
Least favorite food- vegetables
10. Loves to play pretend and dress up. Also likes to play in the mud and climb fences.
Whistlererin
Here are the rules:
1. Post the rules on your blog.
2. Write six random things about yourself.
3. Tag six people at the end of your post.
4. If you are tagged, JUST DO IT, and pass the tag along.
So here we go:
1. Some of my friends here already know this about me, but many others do not. And since I found this picture the other day and someone was nice enough to Photoshop all the creases and tears in the picture, I thought I should post it: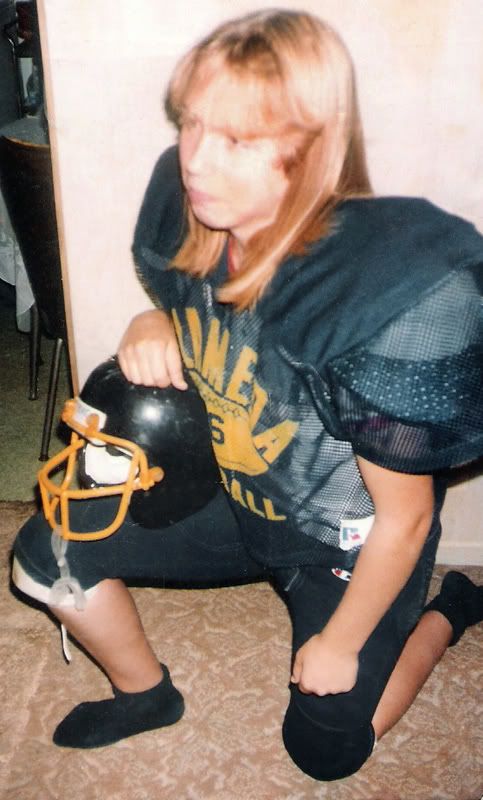 I played football my Freshman year of High School. My dreams were to be the first woman NFL player, but that dream was shattered when I tore all the ligaments in my knee. My mom wouldn't let me play football anymore after that. Even though my knee was messed up on the 2nd practice, I finished out the season and got to play in almost all the games.
2. The clothes in my closet hang together by color. Whites, browns, blacks, reds, oranges, 1 yellow item, greens, blues(the majority of my clothes just happen to be this color), and purples.
3. I like to do laundry, but when it comes to folding and putting away, I dread this chore the most for some reason. My favorite chore to do when it's cold outside is the dishes. I love putting my hands under the warm, soapy water. :)
4.
I love to eat sour candy. Chocolate is okay, but if you really want to be my best friend forever, send me SOUR!
5.
I like to eat Peanut M&M's by biting and sucking off the outer shell and chocolate layer and then crunching the peanut.
6. I am nearsighted in one eye and far-sighted in the other. When I was growing up, I wore glasses with one Coke-bottle-thick lens that magnified that one eye. It was pretty humiliating. Thankfully, technology has greatly improved, and there is no longer need for that kind of humiliation. I still don't wear my glasses as much as I should- but only because I have no clue where they are at the moment. ;)
People I'm tagging:
Maize
Spokanesista
Tupoi(Pam)
Over The Hedge
Kelly at Blissfully Deaf
NavywifeSD
Edited to add one more person I'm tagging. Okay, I'm breaking the rules, but the chances that everyone I tagged will actually come through aren't so great, so I'm improving the odds. :)
Lynnsmanythoughts
I got tagged by

"Chuch," he replied.

This is pretty cool since I don't understand much of what he says. He turns 17 months old today, and the only words that I'm sure he is saying are:
stick
Mama
Dada
wasssaaat?(what's that?)
bahbah(bye-bye)

and now "chuch."

Interesting vocabulary.

Oh, and now he also has a couple of his own made up signs. He sticks his finger in his mouth and pretends to eat for "food," and hold his fist with his thumb up near his mouth for "drink."
As I was walking across the parking lot to go inside the building today, Jayden pointed his finger. "That's church, Jayden!"